Compare the Ford F-150 to the Competition at Roger Shiflett Ford in Gaffney
Comparing and contrasting your next truck choice can take careful deliberation that takes you down different paths with unique truck options at the end of each. Finding the right full-size pickup truck for your needs can make your life easier and adds some convenience to your towing/hauling experience. Here at our Ford dealership near Kings Mountain, NC, we take pride in the performance of our Ford trucks, including the new Ford F-150. A class-leader in many aspects, this Ford truck is the ideal complement to any lifestyle around Shelby, NC. Even when matched up to competitive models like the RAM 1500 and the Chevy Silverado 1500, you'll find the Ford truck demonstrates rugged capability and performance at a higher level.
Our team here at Roger Shiflett Ford has prepared a comparison of the Ford F-150 to the two rival trucks, and we're happy to help our Spartanburg drivers learn about which truck offers the best performance, capability, comfort, and convenience. Want a little hint? We're expecting the Ford F-150 to impress you at every turn with what it has to offer. Check out the comparisons down below and see how the F-150 does!
Ford F-150 vs RAM 1500
When it comes to what's underneath your hood, having the right kind of power for your next adventure is important. Both truck lineups offer a variety of powertrain options to choose from, including V6, V8, and turbo diesel engines ideal for a multitude of situations. However, the F-150 lineup has six options to choose from including the High-Output EcoBoost® 3.5-liter and the 2.7-liter turbocharged EcoBoost®, options that the RAM lineup doesn't offer.
Speaking of power, the Ford F-150 can equip the High-Output 3.5-liter EcoBoost® engine, which delivers 450 horsepower and 510 pounds-feet of torque - both class bests. The RAM lineup doesn't achieve this level of capability from any of its engine options, limiting you when you want to enjoy impressive power.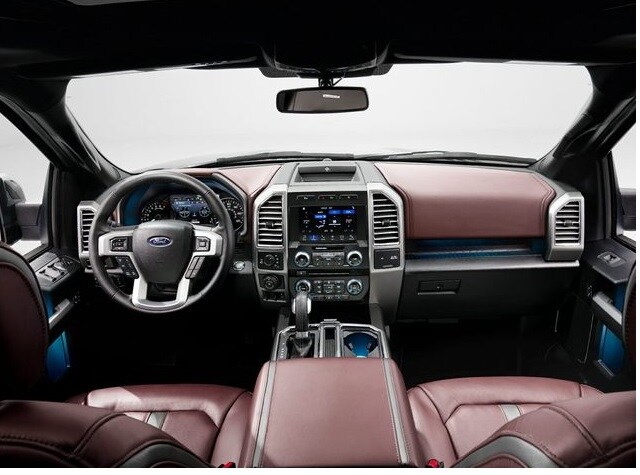 ;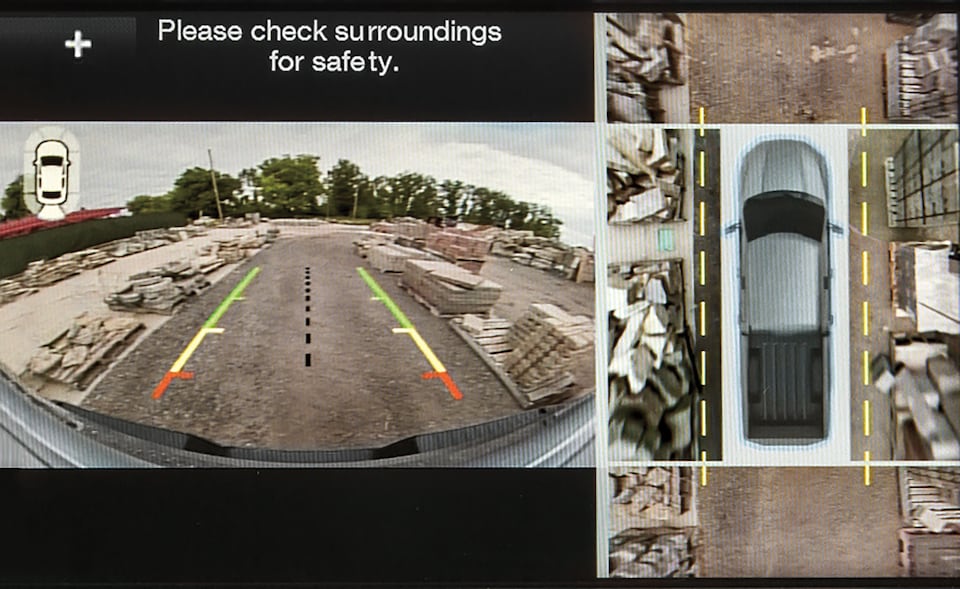 Ford F-150 Safety Features
When you're looking for a truck that can tow, you've found two options that take advantage of durable frames and hardy suspensions to enhance the capability to high levels. But when you want the one that performs the best, you'll want to find your way into the driver's seat of the Ford F-150. When properly equipped, it can tow a maximum of 13,200 pounds while the RAM truck only manages 12,750 pounds of maximum trailer weight.
The Ford F-150 isn't just an impressive truck that can tow a lot - it also has a payload designed to haul around work supplies and home project materials with ease. When the truck is equipped for it, the F-150 can haul up to 3,270 pounds in its payload, which beats out the RAM 1500's ability to only haul 2,300 pounds.
Being well-equipped to tow is just part of the equation. The Ford F-150 offers an arsenal of features to make your towing experience more convenient, including the class-exclusive Pro-Trailer Backup Assist. With the twist of the knob located on your center console, you'll be able to control your trailer and the direction it goes as you reverse your truck. This feature isn't offered in the RAM 1500 lineup.
If you need to stay connected while on the go, the F-150 pickup truck offers the FordPass Connect™ feature, an app that lets you monitor the condition of your oil level, schedule service appointments, and even find your way to the truck in a bustling parking lot. It also comes equipped with a 4G LTE Wi-Fi hotspot, a feature that is noticeably lacking from the RAM truck lineup.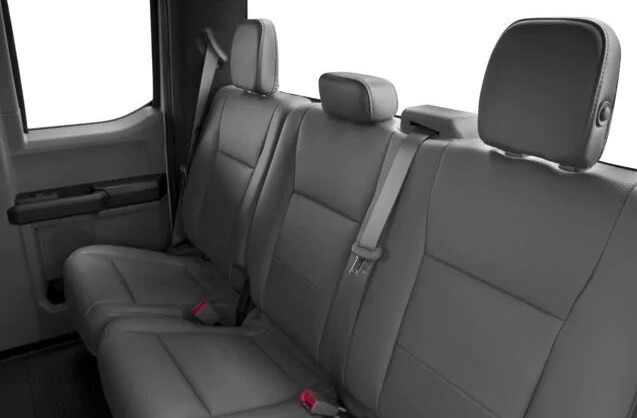 Ford F-150 Passenger Seating
Ford F-150 vs Chevy Silverado 1500
When you browse either lineup, you'll enjoy a variety of engine options to choose from. Both trucks offer nearly identical powertrain choices, with V6, V8, turbocharged, and even turbodiesel ones to choose from. Unfortunately for the Chevy truck, it doesn't match the High-Output 3.5-liter EcoBoost® engine that the F-150 can equip. With best-in-class 450 horsepower and 510 pound-feet of torque, the Ford F-150 leaves the Chevy Silverado in the dust.
When you talk about towing, the Chevy Silverado and Ford F-150 offer maximums of gas-powered capability that are pretty similar to each other. If you equip the turbodiesel engines, however, then you can expect the Ford F-150 to dominate. Its diesel engine can tow a maximum of 11,500 pounds, while the Chevy Silverado limits you with a capacity of 9,300 pounds.
If you need to get supplies to the worksite, you want a truck that can handle a lot. The Ford F-150 tops out at 3,270 pounds, making your day just a bit easier with every trip. The Chevy truck won't offer the same convenience, with capability that only reaches 2,250 pounds.
When you're working into the night, having a truck that can still assist you is a huge benefit that helps you get things done quickly. The Ford F-150 strives to make your life easier with available amenities that illuminate your work experience, including LED box lighting, an LED trailer hitch light, and the class-exclusive LED side-mirror spotlights. You won't find the same list of conveniences available to the Chevy lineup.
Even though the Chevy Silverado offers impressive towing capacity, it doesn't necessarily make things easier with the convenience of technology. The Ford F-150 takes a different approach, offering the available class-exclusive Pro Trailer Backup Assist®. Solely provided in the F-150 lineup, this dial is located on the center console and allows you to control your trailer and the direction it goes when reversing. You won't find this feature anywhere in the Silverado 1500 lineup.