The Ford F-650: Built to Handle Commercial Tasks from the Ground Up
If you hail from Gaffney or Spartanburg then you're already familiar with the ease and confidence a hardworking truck like the Ford F-650 can bring to the worksite. If you're currently hunting for a robust model that boasts a longstanding legacy of durability and value over time, then the Ford F-650 is a commercial duty truck you might find worthy of exploring further. Armed with an impressive powertrain and resting on a platform that's been tried and tested over the years in countless fields of work, the F-650 is a model that offers a blank slate for your business's transportation needs. Find this model and a myriad of other Ford medium-duty truck options at Roger Shiflett Ford at our Ford dealership just outside Shelby, NC.
Performance and Capabilities
The Ford F-650 offers more than enough power to get the job done. The model features a class-exclusive 7.3-liter V8 gasoline engine that delivers best-in-class V8 horsepower and a best-in-class 468 pound-foot torque rating. With immense displacement using overhead-valve architecture, the F-650 is adept at producing plenty of might while remaining in the low rev range to transport equipment and loads without pushing your vehicle to the limits. If you tow more frequently than haul your loads around town, the F-650 also features a 6.7-liter Power Stroke V8 Turbo Diesel engine capable of generating a standard 270 horsepower and 700 pound-feet of torque. The F-650 truck also offers a unique array of alternator options over the included 200-amp model along with medium-duty Dana Rear Axles from Dana Spicer.
The Ford F-650 medium-duty truck is crafted on a platform that offers excellent flexibility while maintaining rigid strength to ensure long-term value throughout years of heavy use. The model boasts a generous and unique GVWR range between 20,500 pounds and 37,000 pounds. Auto mechanics, farmers, construction companies, loggers, and contractors have all come to rely on the Ford F-650 for its versatile and capable nature.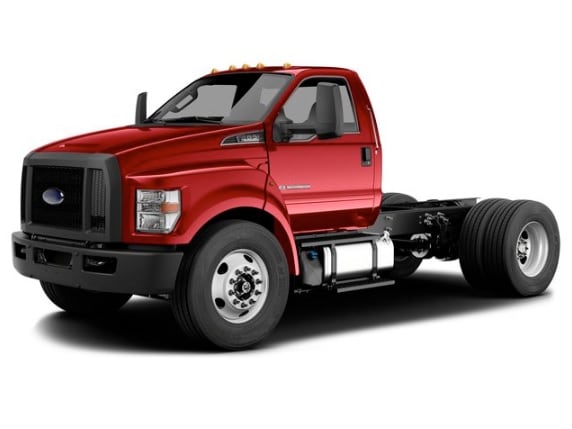 Advanced Safety Features
Small business owners around the Shelby, NC and Kings Mountain, NC area need to ensure their hardworking employees are protected behind the wheel when moving their gear and equipment. The F-650 has been designed to do just that through its many advanced safety features and driver-assistive controls.
Traction Control System: Helps mitigate tire slip during acceleration on slick and steep surfaces by delivering torque to the wheels that have the most grip
Hill Start Assist: Prevents rollback when starting on a steep incline to prevent fender benders or collisions with unseen hazards behind your vehicle
Automatic High-Beam Headlamps: Headlamps activate once poorly lit driving conditions are sensed to ensure proper line of sight and visibility
Pre-Collision Assist with Automatic Emergency Braking: Works to prevent collisions with vehicles directly ahead of you in your path of travel as brakes are applied automatically
Lane-Keeping Alert: Closely monitors your lane to notify you once you begin to stray outside the lane markings. It's especially useful for drowsy early morning and late evening drives
Forward Collision Warning with Brake Support: Activates brake pressure if you don't react once the system notifies you of an imminent collision ahead
Adaptive Cruise Control: Travelling the highways will be a stress-free endeavor with this advanced system that maintains a proper following distance and speed.
Set Up a Test Drive in the New Ford F-650 Today
If you think the new Ford F-650 might be a sensible fit for your business, we encourage you to set up a test drive over the phone as soon as your schedule allows. We look forward to working with you and helping you find the right Ford truck to take your business to the next level.